Cabinets in Otsego, MN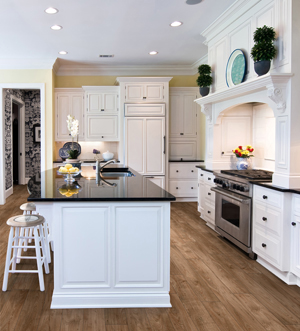 If you are looking for an appealing and cost-effective way to increase the value of your home, consider bathroom and kitchen remodeling. Potential homebuyers love modern looking kitchens and bathrooms, so by giving yours a facelift you are able to sell quicker and for more money when the time eventually comes.
No bathroom or kitchen-remodeling job is complete without the installation of beautiful cabinetry. Cabinets take up such a primary role in the look of kitchens in particular, that it is vital to have attractive ones that buyers will love. For the best results on your remodeling job, turn to our experts for some of the finest cabinets in Otsego, MN.


Take Advantage of Your Kitchen's Space
Whether you have a large kitchen fit for a chef, or a very small one that can barely support two people inside at the same time, it is important to use your space as efficiently as possible. Our kitchen cabinets are designed using the latest space-saving manufacturing techniques, so you are able to take full advantage of your vertical space.
Even if your space is limited it is possible to still gain more storage room. A popular choice for many homeowners is to install a corner cabinet with a Lazy Susan, which allows you to take advantage of what would usually be wasted space. In larger kitchens you are able to take full advantage of our islands as well, which provide much needed storage and counter space. No matter what size or shape your kitchen is we are able to provide the custom cabinets you need for your home.


Make Your Bathroom Feel Like a Spa
Your bathroom should be a relaxing place where you want to spend your time. An upgraded bathroom adds much appeal and value to your home, plus a remodel can make an ordinary room feel extraordinary. We have everything you need to get the job done, including stunning bathroom vanities that provide you with additional storage space while looking fantastic at the same time.
If you are ready to totally transform your living spaces, visit our showroom today to see what we have to offer. With so many cabinet choices available you are bound to find the perfect choice for your home. Best of all, we offer professional cabinet installation to ensure that the job is done right the first time. Let our design experts give you the bathroom or kitchen you have been dreaming of.



Contact us to get custom cabinets for your home. We are proud to serve the residents of Otsego, Minneapolis, Maple Grove, Brooklyn, and Buffalo, Minnesota.