Vinyl Flooring in Otsego, MN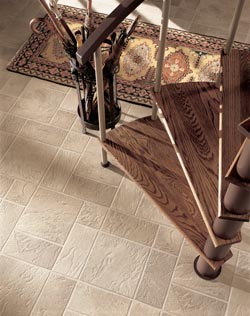 Our collection of vinyl flooring in Otsego, MN, offers you style and durability-- the best of both worlds. Vinyl combines the style and beauty of all of the popular hard flooring types with the durability of manufactured materials. If you are looking for a flooring type that allows you to keep your floors fresh and attractive in a busy household, look no further than our showroom's vast selection of vinyl flooring.


Vinyl Plank Flooring Imitates Hard Wood
Who doesn't love wood floors? The elegant charm of wood captures the beauty of nature while still maintaining stunning. Hardwood looks great in any home regardless of the décor. Our vinyl planks resemble wood so closely it's hard to tell them from the real thing. They come in the species you want, complete with grain patterns, whorls, and the finish of your choice.
Now you can have the look of hardwood in moisture-prone rooms like bathrooms, kitchens, and basements. Thanks to advanced techniques in manufacturing it is now possible to purchase vinyl plank flooring that has the look and even the texture of real hardwood. Since vinyl is waterproof, it is suitable for any environment.


Stylish and Durable Vinyl Tile Flooring
Life happens, and you need a floor that suits the demands of your way of living. Vinyl tile is able to take a beating and continue looking great year after year. The durable nature of this flooring type is one of the major reasons that both home and business owners are choosing vinyl more frequently. High traffic areas and pets are no problem for these floors.
Our vinyl tile collection includes flooring that is made to mimic high-end materials such as natural stone and porcelain tile. It is comfortable underfoot and acts as a noise reducer as well. You can have the exact look you want for a fraction of the price.


Professional Vinyl Flooring Installation
Proper flooring installation is vital for making sure you get the look and longevity you desire. The quality of your installation is as important as the quality of the flooring you purchase. Your flooring is the foundation that your rooms are built around, so allow our experts to make it look its best. We have the experience, tools, and skills to make sure your vinyl flooring installation is done right the first time. Best of all, vinyl installs quickly, so there will be as little interference in your daily life as possible.



Contact us to learn more about the vinyl we have in stock. We are proud to serve customers in Otsego, Minneapolis, Maple Grove, Brooklyn, and Buffalo, Minnesota.