Premium Vinyl Flooring in Otsego, MN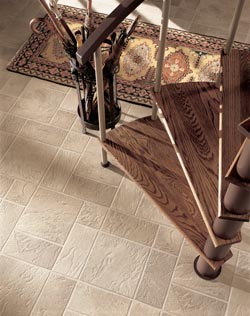 We make it our specialty to offer you endless choices in flooring options. If you want beautiful Vinyl flooring in Otsego, MN, Focalpoint Flooring America offers a wide selection of brands, colors, and styles that stand up to real-world wear and tear. Visit our flooring showroom, to select the vinyl that best suits your space.

Shop three ways: Come into our store to see and feel the vinyl tile, planks, and sheet. Use the convenience of your computer to shop online. Or, give us a call and we bring the vinyl flooring to you after a free pre-measure. This way there's no guesswork in buying the right amount of flooring for your room.

Benefit from the professionalism of our staff—from our designers to flooring specialists to installers. Our staff is well trained and knowledgeable and we are here to help you find exactly what you want and need. Service is what we're all about. Our goal is to give you great a shopping experience as you find the flooring best suited for your room.
Today's Vinyl Flooring — Better than Ever

Our manufacturers have found many, many ways to improve vinyl so this flooring is better than ever. The latest technology strengthens this flooring type so that it stands up to heavy foot traffic, resists liquids and spills, and withstands scratches and scuffs. This flooring option is tough enough for a busy household with children and pets. It deals with the challenges of daily life and remains beautiful.
Another manufacturing advance is in embossing. With new techniques, patterns are embossed on vinyl in a variety of looks, patterns, and styles. Embossing allows us to make vinyl that resembles stone, ceramic, and wood that looks like the real thing but with a smaller price tag. In addition, you can use vinyl in any room of your home from the basement or TV room, or within the bathroom and the kitchen, as vinyl is waterproof.
New vinyl is a cleaning dream! Just give the surfaces a quick sweep and mop for gleaming floors. This flooring option is made to meet the demands of today's consumer, which is why vinyl offers all the virtues you need.
Vinyl Trends: LVP, LVT, & Sheet Vinyl

The most popular trend is vinyl plank flooring that comes in planks just like real wood and even has the grain, knots, and texture of cut wood. Also known as luxury vinyl plank, or LVP in Otsego, MN, this flooring mimics hardwood with such detail that it's hard to tell the difference.
Hardwood is a wonderful flooring option, but it may not be right for you. Perhaps, you prefer flooring that offers a lower price point, as well as easier care and maintenance. We provide our customers with a huge assortment of selections in LVP, so you get the wood look you love with all the benefits of vinyl.
You can also find luxury vinyl tile in Orlando that looks like ceramic, porcelain, and even slate. With realistic embossing and rugged durability, LVT is an option that is in great demand, too.

Another fashionable selection is fiberglass-backed, floating sheet vinyl. Today's vinyl provides a cushiony feeling underfoot that is especially pronounced with sheet vinyl. Your feet will thank you for it.
Vinyl Floor Installation from Professionals
Pick out your vinyl flooring, and expect our expert installers to be at your home soon. Let us schedule vinyl plank flooring installation on a day and at a time that's convenient for you. We send a team of skilled and knowledgeable installation technicians to your home to lay your new flooring according to the manufacturer's recommendations.
We know that preparation is essential to long-lasting installation, so our affordable floor contractor takes the time to do it right. That way, you can enjoy your handsome vinyl floors for many years.

Flooring America Guarantee

It is our practice to provide you with some of the best vinyl floorings in America—in our selection, price, and quality—with the outcome that you are 100% satisfied with our product and services. We make good on our promises that your floors last for years with our high-tech products and expert installation.

With hundreds of locations from which to choose, we have any style, design, and color of vinyl flooring you want. Visit our showroom at Focalpoint Flooring America.
or go online today for vinyl flooring that brings all the elements of your décor together for less than you would pay anywhere else.


Contact us to learn more about the vinyl we have in stock. We are proud to serve customers in Otsego, Minneapolis, Maple Grove, Brooklyn, and Buffalo, Minnesota.